Pet Arthritis
Is Your Beloved Pet Not As Active As Before?
by J.R. Rogers

Approximately 25-30% of family pets suffer from osteoarthritis. The stiffness, pain and swelling in a pet with Arthritis is really no different than what you as a human being would experience. Arthritis in pets, as is humans, is a debiliating disease that greatly affects your pet's health and wellbeing. With the onset of Arthritis, also known as Degenerative Joint Disease (DJD), a happy, playful Fido or Fluffy can quickly turn listless and pain ridden
Types of Pet Arthritis
If you are not sure which condition your pet has, or wish to read more information on the specific types, a full description can be found
here
.
What's really going on to cause this pain in your pet?
The physiological changes that occur in pets are virtually identical to that of the human body. Essentially, it is the "breakdown" of the (protective) cartilag that covers or protects the ends of bones at the joint.
Primary Vs. Secondary Osteoarthritis.
Since pets by their nature are very active, it follows that they are constantly subjecting themselves to trauma. Where trauma is the cause of the onset of one of many (osteoarthritis) conditions (as opposed to hereditary conditions), the course of the disease is extremely rapid. While a human may sustain a traumatic injury that does not develop into an arthritic condition for many years, quite the opposite is true with pets. Unlike humans, most of pet Arthritis develops almost immediately after trauma to their bodies. The onset can and is often within weeks of even a minor injury as opposed to years for a human. This is referred to as secondary arthritis compared to the more usual primary arthritis in humans.
They can't discuss their pain
Pet owners often ask if Glucosamine can be used as a preventive measure for pets. In other words, can it be used even though you do not have a diagnosis of OA from your veterinarian?
As most of you know, human beings take supplements as preventive measures regularly. You can do the same for your pet.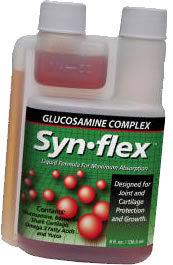 There are signs, however, that will tell you your pet is at risk.
How Do You Know?

Reluctance to walk, climb stairs, jump, or play

Limping

Lagging behind on walks
Difficulty rising from a resting position

Yelping in pain when touched

A personality change
resisting touch
Does your pet show these signs?

If your pet shows these signs, I would highly recommend learning more about Syn-Flex for pets. With high quality, pharmaceutical grade liquid Glucosamine HCL and Glucosamine Sulfate plus eleven other beneficial ingredients including all the ones mentioned above, we have created a product superior in quality and effectiveness to anything else on the market. If your pet has Arthritis or is at a risk to develop the disease we suggest learning more about Syn-Flex for pets.

If it is you yourself who suffer from Arthritis, I would highly recommend learning about the latest breakthrough in osteoarthritis treatments.